Overnight Boarding
Dawg House offers boarding in combination with Dawgie Daycare. Overnight guests spend the day in our main playroom with the daycare pack from 7am-6:30pm. You can watch your pooch on our doggie cam that runs from 9am to 5pm. After a full day of play, they settle in to Great Dane size crates in our secure, climate-controlled boarding room.
Overnight guests should fill out the on-line registration form, which you can find here. Fill in the your dates at the bottom and we will contact you to confirm your dawgs stay with us. You can also call us at (520) 903-2949 or email us at contact@dawghouse.biz.
$40 for each 24 hour period beginning and ending at 9am. Daycare charges will apply by the whole and 1/2 day starting at 7am for dogs picked up after 9am. Boarding charges are separate from daycare charges (no daycare pass use). NO SINGLE NIGHT BOARDING OVER WEEKENDS! Boarding drop off/pick-up times are during normal business hours. Weekend Pick-up/ Drop-off are times are between 7am-8am – No Exceptions! All Dogs must be leashed when entering/leaving the property! AGGRESSIVE DOGS ARE NOT WELCOME AT DAWG HOUSE, PERIOD!
No cancellation refunds for boarding pre-payment over holidays and summer weekends. The only exception is for a deceased dog with documentation from a veterinarian.
You Must Bring Your Own Dog Food!! Plus enough food for 2 extra days in case of an emergency extended stay. No bowls, scoops or toys. We have plenty!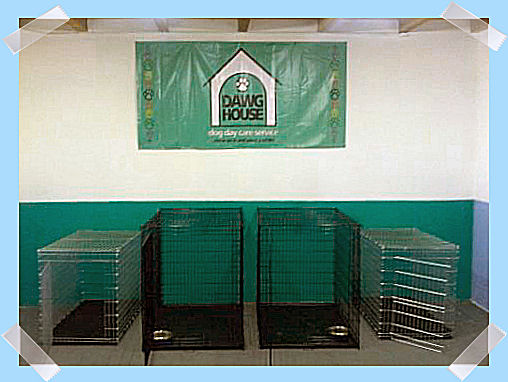 The Dawg House Provides These Additional Services For Clients Only